Mini Rapid Thermal Evaporator
Mini Rapid Thermal Evaporator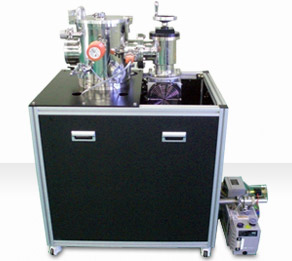 Model No : M/N : AP-MTE1
A. Feature of Thermal Evaporation System
Deposition thickness : Customer specified
Deposition material : Metals films
Film thickness uniformity : = ± 5 % on 4" substrate
Deposition : deposition by Thermal evaporation boat
Throughput : up to 4" substrate x 1 sheet / batch
Vacuum : Ultimate pressure 5.0 x 10 -6 Torr / Base pressure 3.0 x 10-5 Torr

Vacuum chamber : process chamber
Control system : Manual control
Purpose : Research and development
B. Specifications
1. Vacuum chamber module
1) Process chamber
Chamber : stainless steel body with a hinged top door type, ID250 x H300 mm
Ports : Pumping, venting, gauge, window, thermal boat, valves, etc.
2) Substrate holder module
Substrate holder for 4 inch substrate
Sample (un)loading : Manual
Substrate rotation : 0~10RPM (Option 1)
2. Vacuum module
1) Vacuum pumps
Oil rotary pump (150 l/min) 1set, Oil Diffusion pump (215 l/sec) 1set
2) Vacuum valves and pumping lines
Right angle valve for Oil Diffusion pump
NW25, Right angle valve for Roughing pumping
Venting valve, Pumping lines(NW25), etc.
3) Vacuum measurement
Low vacuum gauge sensor, 1set
High vacuum gauge sensor, 1set
4) Thickness Monitoring Unit (Option 2)
Quartz oscillator type deposition controller
Sensor packages
Vacuum feedthroughs
Thickness display range : 0 to 999.9 k Å
Thickness accuracy : 0.5 %
E-beam gun control : user programmable
Parameters are displayed on screen
Delivered with 10 crystals for sensor head
3. Thermal evaporation source module
4" x 1 boats (W boat)
AC power supply
Output power : 5 V - 400 A
Analog current limit control on front panel
Boat thermal deposition control
Manual shutter
4. Frame
Frame size : 650(W) x 900(D) x 900(H) mm
Painted profiled mild steel
The whole machine is covered with paint removable panels
The frame is also equipped with adjustable legs
5. Facilities (Customer side)
Water flow system with purging valve
Electric power requirements : AC 220V, 20A (about max. 4kW)
Exhaust line NW25 for roughing pump
C. Warranty
During one-year period, Manufacturer warrants for repair all faulty equipment without charge except that improper operation, maintenance and handling by the customer.
All consumable materials are entirely excluded from warranty.
D. Delivery
Normally 8 weeks after PO